The Mining Legacies Website and Project was set up to tell the other side of the mining story. The focus is not on high wages, mining booms and takeovers, but on the people and places that bear the impact of mining. The idea was to capture the impact of mining with images, supplemented by text where available. We started with a number of mines in remote parts of the Northern Territory and Queensland – but have expanded the site to cover other mine-sites from around Australia; we would like to expand the work, so contact us if you can help make that happen.
This website is a shared resource, if you have some images for information for any of the sites please contact us. See the dedicated Mining Legacies website
---
Reports and articles
Ground Truths: Taking Responsibility for Australia's Mining Legacies
Authors: Roche, C & Judd, S (2016)
Intro:This report sets out to explain some of the current and potential impacts of Australia's mining legacies to Australians. The aim was to bring the reality of mining legacies, often hidden by geographical remoteness or simply by fences, out into the open. Using examples and case studies to illustrate what mining legacies mean for people and place, we reported on research, events and key documents, collectively demonstrating the need for reform of policy, regulation and practice in Australia.
The dichotomy between successful mine closure or enduring mining legacies is clear. Closure is the responsible approach. Successful closure is where the polluter pays for and undertakes effective rehabilitation with criteria set by existing land use, community expectations and government regulation. Mining legacies are the opposite, the growing shame of industry and community where this generation carelessly takes without thought for the planet or future generations. Recent regulatory changes in Western Australia, Queensland and the Northern Territory, and the findings of the Hazelwood Inquiry all provide further evidence to show that closure reform is clearly needed. The transition to successful mine closure demands coordinated action, a requirement that has been stated frequently and emphatically for more than a decade. The way forward is for states to implement locally specific rules within a national framework; where risks are acknowledged, impacts reduced and closure and management activities covered by adequate and secure financial instruments. Encouraged and guided by these changes, the mining industry can then improve on current practices, address the mistakes of the past and ultimately leave a positive legacy.
---
Mining Legacies – Underestimating Life-of-Mine Across Time and Space
Authors: Pepper., Roche., C., Mudd, G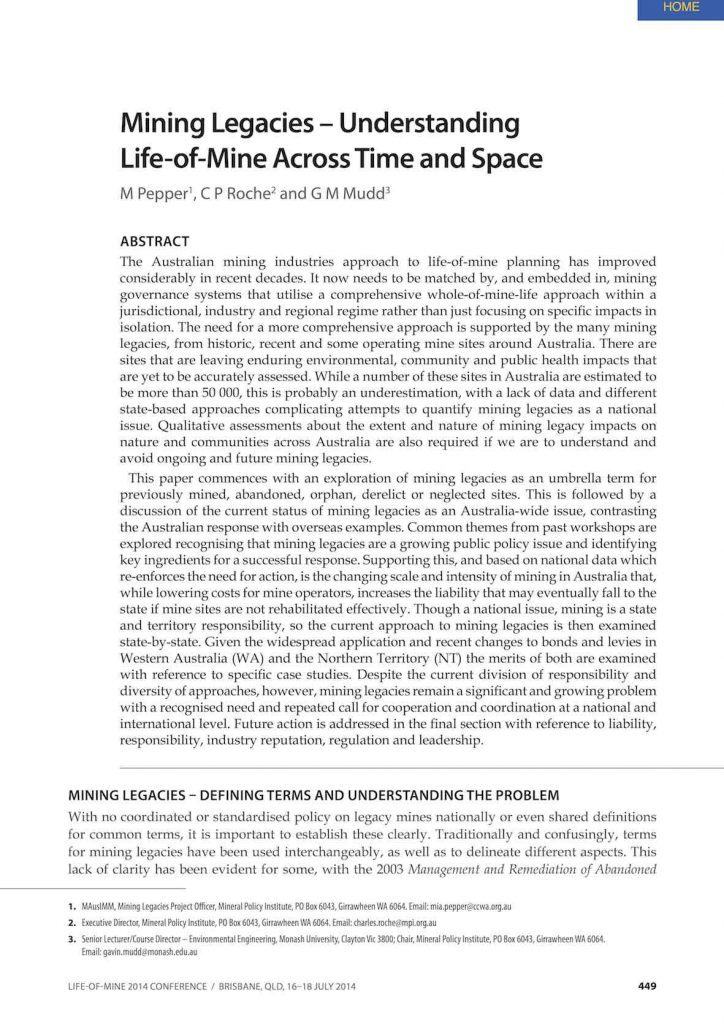 Abstract:The Australian mining industries approach to life-of-mine planning has improved considerably in recent decades. It now needs to be matched by, and embedded in, mining governance systems that utilise a comprehensive whole-of-mine-life approach within a isolation. The need for a more comprehensive approach is supported by the many mining legacies, from historic, recent and some operating mine sites around Australia. There are sites that are leaving enduring environmental, community and public health impacts that are yet to be accurately assessed. While a number of these sites in Australia are estimated to be more than 50 000, this is probably an underestimation, with a lack of data and different state-based approaches complicating attempts to quantify mining legacies as a national issue. Qualitative assessments about the extent and nature of mining legacy impacts on nature and communities across Australia are also required if we are to understand and avoid ongoing and future mining legacies.
This paper commences with an exploration of mining legacies as an umbrella term for previously mined, abandoned, orphan, derelict or neglected sites. This is followed by a discussion of the current status of mining legacies as an Australia-wide issue, contrasting the Australian response with overseas examples. Common themes from past workshops are explored recognising that mining legacies are a growing public policy issue and identifying key ingredients for a successful response. Supporting this, and based on national data which re-enforces the need for action, is the changing scale and intensity of mining in Australia that, while lowering costs for mine operators, increases the liability that may eventually fall to the state if mine sites are not rehabilitated effectively. Though a national issue, mining is a state and territory responsibility, so the current approach to mining legacies is then examined state-by-state. Given the widespread application and recent changes to bonds and levies in Western Australia (WA) and the Northern Territory (NT) the merits of both are examined with a recognised need and repeated call for cooperation and coordination at a national and responsibility, industry reputation, regulation and leadership.