The McArthur River Project: The Environmental case for Complete Pit Backfill

(Mudd)



The McArthur River lead-zinc-silver (Pb-Zn-Ag) mining project is located in the central eastern region of the Northern Territory (NT) of Australia, home to the Gurdanji, Mara, Garawa and Yanyuwa Peoples. Discovered in the late 1950's and mined since the mid- 1990's the deposit remains one of the world's largest mineral resources of Pb-Zn-Ag (Mudd et al., 2016). The McArthur River, from which the mine takes its name, is seasonal, changing from a chain of ponds in the dry to a tropical torrent in the wet season on its 300km journey to the Gulf of Carpentaria.
This report is a review of the current state of technical issues at the McArthur River project, including the site history, environmental impact assessment (EIA) history, waste rock, tailings and water management and associated acid mine drainage issues. It examines the technical arguments for and against complete backfill of waste and tailings into the eventual final void, thereby achieving environmental outcomes that are aligned with community expectations for mine site closure and rehabilitation. It is unfortunate that so much of the information about the McArthur River project remains uncertain or unpublished, limiting transparency and independent analysis – especially since elsewhere the Australian mining industry is adopting greater openness in reporting and access to data (e.g. Newcrest Mining and Cadia).
Download – The McArthur River Project: The Environmental case for Complete Pit Backfill
 Ground Truths: Taking Responsibility for Australia's Mining Legacies

(Roche and Judd)



This report sets out to explain some of the current and potential impacts of Australia's mining legacies to Australians. The aim was to bring the reality of mining legacies, often hidden by geographical remoteness or simply by fences, out into the open. Using examples and case studies to illustrate what mining legacies mean for people and place, we reported on research, events and key documents, collectively demonstrating the need for reform of policy, regulation and practice in Australia.
The dichotomy between successful mine closure or enduring mining legacies is clear. Closure is the responsible approach. Successful closure is where the polluter pays for and undertakes effective rehabilitation with criteria set by existing land use, community expectations and government regulation. Mining legacies are the opposite, the growing shame of industry and community where this generation carelessly takes without thought for the planet or future generations.
Recent regulatory changes in Western Australia, Queensland and the Northern Territory, and the findings of the Hazelwood Inquiry all provide further evidence to show that closure reform is clearly needed. The transition to successful mine closure demands coordinated action, a requirement that has been stated frequently and emphatically for more than a decade. The way forward is for states to implement locally specific rules within a national framework; where risks are acknowledged, impacts reduced and closure and management activities covered by adequate and secure financial instruments. Encouraged and guided by these changes, the mining industry can then improve on current practices, address the mistakes of the past and ultimately leave a positive legacy.
An Overview of Mining and the Environment in Western Australia

(Roche and Mudd)
This chapter identifies and explores the common environmental effects of mining in Western Australia (WA). Utilising unique state-specific data, we examine site-specific factors with reference to metals, mine life cycle, cumulative impacts and temporal disturbance. Emerging trends are discussed with specific reference to WA including in relation to production, ore grades, waste, scale, socio-environmental issues and mine legacy impacts. Finally we explore the constraints on effective environmental management imposed by the WA approach to mining development and discuss challenges for the effective environmental management of mining.
(in) Resource Curse or Cure (Brueckner, Durey, Mayes, Pforr)

In June 2011, the Sustainable Regions and Communities Working Group at Curtin University, Western Australia (WA), held a workshop examining the challenges and opportunities for sustainable wealth creation in Western Australia. Unsurprisingly, with WA being one of the world's largest resource provinces, much discussion centred around mining and its economic contributions as well as its social and environmental costs. The presentations and stimulating discussions on the day gave rise to this book's 'resource curse or cure?' theme. This edited collection continues the conversation begun over three decades ago in State, capital and resources in the north and west of Australia by Elizabeth Harman and Brian Head. We hope this volume will contribute to, and expand, the much-needed debate on resource-led development in the state. While this is a book about WA, the issues addressed in this volume speak to the broader development and globalisation effects experienced nationally and indeed internationally. The contributions show WA's embeddedness within global markets and its local effects. This volume highlights the centrality of the periphery that is WA.
Hidden behind a paywall or contact the author
Mining in Morobe, Papua New Guinea: Impacts from mining along the Watut River

(Roche and Mudd)
This report is about the impact of mining on communities living along the Watut River and in the Morobe Province of Papua New Guinea. Given that similar reports could also be written about other mines it is also a report that applies more applies more widely to the PNG mining industry. While the impacts from mining on the Watut River are minor in comparison to those at Porgera, Ok Tedi and Panguna, they are nonetheless serious. Serious because of the impacts on local people, the repetition of past mistakes and as an example of the slow progress of reform in the mining industry.
The impetus for this report comes from many sources. For the Mineral Policy Institute it is a continuation of our work on a range of mine-sites and mining related impacts in Papua New Guinea since 1995. Watut River Communities became increasingly concerned about riverine impacts from the Hidden Valley mine since construction commenced and asked MPI to assist in late 2010. Subsequently, in early 2012 MPI was commissioned by the Lutheran Evangelical Church of Papua New Guinea, with support from Mission EineWelt in Germany to assess impacts from mining in the Watut River region.
Download – Mining in Morobe, Papua New Guinea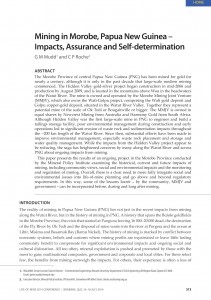 Mining In Morobe Papua New Guinea – Impacts, Assurance and Self-determination

(Mudd and Roche)



The Morobe Province of central Papua New Guinea (PNG) has been mined for gold for nearly a century, although it is only in the past decade that large-scale modern mining commenced. The Hidden Valley gold-silver project began construction in mid-2006 and production by August 2009, and is located in the mountains above Wau in the headwaters of the Watut River. The mine is owned and operated by the Morobe Mining Joint Venture Golpu copper-gold deposit, situated in the Watut River Valley. Together they represent a potential mine of the scale of Ok Tedi or Bougainville or bigger. The MMJV is owned in equal shares by Newcrest Mining from Australia and Harmony Gold from South Africa. tailings storage facility, poor environmental management during construction and early the ~200 km length of the Watut River. Since then, substantial efforts have been made to improve environmental management, especially waste rock placement and storage and water quality management. While the impacts from the Hidden Valley project appear to be reducing, the saga has heightened concerns by many along the Watut River and across PNG about ongoing impacts from mining.
This paper presents the results of an ongoing project in the Morobe Province conducted by the Mineral Policy Institute examining the historical, current and future impacts of mining, including community views, social and environmental impacts and the monitoring and regulation of mining. Overall, there is a clear need to more fully integrate social and environmental issues into life-of-mine planning and go above and beyond regulatory requirements. In this way, some of the lessons learnt – by the community, MMJV and government – can be incorporated before, during and long after mining.

Mining Legacies – Underestimating Life-of-Mine Across Time and Space

(Pepper, Roche and Mudd)



The Australian mining industries approach to life-of-mine planning has improved considerably in recent decades. It now needs to be matched by, and embedded in, mining governance systems that utilise a comprehensive whole-of-mine-life approach within a isolation. The need for a more comprehensive approach is supported by the many mining legacies, from historic, recent and some operating mine sites around Australia. There are sites that are leaving enduring environmental, community and public health impacts that are yet to be accurately assessed. While a number of these sites in Australia are estimated to be more than 50 000, this is probably an underestimation, with a lack of data and different state-based approaches complicating attempts to quantify mining legacies as a national issue. Qualitative assessments about the extent and nature of mining legacy impacts on nature and communities across Australia are also required if we are to understand and avoid ongoing and future mining legacies.
This paper commences with an exploration of mining legacies as an umbrella term for previously mined, abandoned, orphan, derelict or neglected sites. This is followed by a discussion of the current status of mining legacies as an Australia-wide issue, contrasting the Australian response with overseas examples. Common themes from past workshops are explored recognising that mining legacies are a growing public policy issue and identifying key ingredients for a successful response. Supporting this, and based on national data which re-enforces the need for action, is the changing scale and intensity of mining in Australia that, while lowering costs for mine operators, increases the liability that may eventually fall to the state if mine sites are not rehabilitated effectively. Though a national issue, mining is a state and territory responsibility, so the current approach to mining legacies is then examined state-by-state. Given the widespread application and recent changes to bonds and levies in Western Australia (WA) and the Northern Territory (NT) the merits of both are examined with a recognised need and repeated call for cooperation and coordination at a national and responsibility, industry reputation, regulation and leadership.
 Drivers for the Development of Deep Sea Minerals in the Pacific

(Roche and Feenan)
Could the world's hunger for metals and minerals, and state strategies for securing access to them, propel the development of deep sea mining? Identifying the drivers of a Pacific deep sea minerals industry requires a global perspective on met- als demand, an understanding of the forces influencing the mining and minerals industry, and a regional perspective on need and opportunity in the Pacific. The combined picture is complex, with high levels of uncertainty, due to the dynamic and often interrelated nature of the drivers.
Long-term decreasing metal industry productivity, falling ore grades, and increased costs, combined with increased environmental, social, and cultural expectations for sustainability, create an opportunity for deep sea minerals as an alternate source of metal supply (along with reuse and recycling). Across the Pacific Islands region, there is widespread and recognized need for alternative economic development to overcome poverty and meet the rising aspirations of Pacific islanders. Running counter to this is an increasingly vocal concern about impacts and a lack of communal benefit from development projects.
The focus of this chapter is the primary drivers of deep sea mining in the Pacific, with a shorter discussion on secondary drivers and the restrictive forces operating in the region (Table 1). Investigating these drivers provides an objective framework for improved understanding of the forces behind the industry, leading to better decision making. This investigation, like the industry, is in its infancy. Further work is required to better inform Pacific Island states of the factors influencing the future of the industry.
Download – Drivers for the Development of Deep Sea Minerals in the Pacific
 Anticipating Social and Community Impacts of Deep Sea Mining

(Roche and Bice)
Other chapters in this volume demonstrate that the mineral extraction potential of deep sea min- ing could be enormous, that economic opportunities are driving Pacific Island states' exploration of deep sea mining, and that deep sea mining – if approached from a holistic environmental perspective – might offer Pacific Island states economic means of achieving development goals. But what of the social and community impacts of deep sea mining? How might communities be affected or societies changed when the most socially disruptive aspects of mining shift offshore? How can such impacts be predicted, measured, and monitored? And will communities be able to register complaints successfully, exercise decision-making authority, or grant a social licence to operate to an industry operating not in their backyards, but in their equally prized and culturally important seas?
Current knowledge suggests that deep sea mining will not directly impact local communities to the same degree as terrestrial mining. The central question then becomes: how significant is the impact from deep sea mining likely to be? The answer will lie, in part, with when and how issues are assessed and changes identified. At this early stage, all parties must focus on how anticipat- ed or identified impacts are to be addressed and create processes that involve local communities in determining whether the balance between benefit and impact is satisfactory (Gibson 2000).
Download – Anticipating Social and Community Impacts of Deep Sea Mining
Preliminary Review of the Environmental Impacts of the Hidden Valley Gold Mine, Papua New Guinea

(Mudd)
The Hidden Valley gold-silver (Au-Ag) mine is located in the Wau-Bulolo gold field of Papua New Guinea (PNG), about 90 km south-southwest of Lae and some 300 km north-northwest of the capital Port Moresby, shown in Figure 1. The region is part of the Morobe Province. The project is located in the headwaters of the Bulolo and Watut Rivers, with the Watut River being a major tributary of the Markham River which reaches the ocean near Lae.
There can be no doubt that the Hidden Valley Au-Ag mine has caused environmental impacts in excess of permit and approval conditions, mainly due to poor environmental management practices during construction – especially concerning waste rock. To date, although the MMJV have conducted a range of studies on the Watut River, most of their reports are not publicly available – and nor were they made available to the PNG Government for SMEC to conduct their reviews. Such secrecy significantly hampers accurate scientific interpretation and only worsens the perception of the impacts from the project to date. To address this challenge, future work will include a more detailed review of the 2004 EIS, other technical studies on the Watut River as well as a visit to the Watut River communities in April 2012.
Download – Preliminary Review of the Environmental Impacts of the Hidden Valley Gold Mine
Backgrounder on the Rapu Rapu Mining Operation, July 2006

(MPI)
The Rapu Rapu Gold Copper and Zinc Mining Project, on Rapu Rapu Island in the Albay Province of in the Philippines has been plagued with controversy since its conception. Mining leases covering 80% of the fragile island ecosystem which is home to agricultural and fishing communities reliant upon the natural resources for livelihood. The marine waters surrounding the island in the Albay Gulf to the South, Lagonoy Gulf to the North and the Pacific Ocean to the east, are exceptionally biodiverse with rich fishing grounds for fishermen from the Bicol Region. Dolphins, other sea mammals, sea turtles, egrets, and purple herons are frequently sighted in these waters. Two cyanide spills occurred within // of the mine's operation and acid rock drainage is already in occurance and polluting water sources on the island.
A range of serious environmental and social breaches and problems have been identified by a variety of groups including government commissioned fact findings missions and government departments, academics, scientific experts and NGOs in relation to the Rapu Rapu mining operation owned by the Lafayette group of companies.
Two major government initiated studies were initiated in response to growing community concern over the mining activities. President Gloria Macapagal-Arroyo of the Philippines created by Administrative Order a Commission to "investigate the effects of the mining operations of Lafayette Philippines, Inc. (LPI) on people's health and environmental safety in the Municipalities of Rapu-Rapu in the Province of Albay and Prieto Diaz, Gubat, Barcelona, Bulusan, and Bacon in the Province of Sorsogon. (herein referred to as "the Commission Report"). An additional assessment report was undertaken by the Philippines Department of Environment and Natural Resources following the two cyanide spills to further investigate matters. (herein referred to as DENR Report)
However the concerns over the project extend further to allegations of fraud and falsity in the corporate structures of the Lafayette group of companies, and in tax related issues including arrangements by which tax exemptions were gained from relevant National Authorities and the payment of taxes relating to mineral production at the site.
Download – Backgrounder on the Rapu Rapu Mining Operation
Ramu Nickel; A Triple Bottom Line Failure?

(Beaumont)
The proposed Ramu Nickel mine is a lateritic nickel deposit discovered at Kurumbukari, a site south of the Ramu River in the early 1960′s. In 1997, Highlands Gold, previously involved in the development of the riverine dumping Pogera mine – secured management of the project, and in the same year, Highlands Pacific was established as a new company to manage the Ramu Nickel Project. The project's proposed footprint extends from the Kurumbukari mine site in the Ramu River Catchment across 100 kilometres of indigenous customary lands to the Rai Coast. A pipeline will carry ore concentrate to be processed at the coast, with the subsequent mine waste to be dumped offshore into Basimuk Bay. The project poses serious economic, environmental and social risks that are discussed in this paper.
Download – Ramu Nickel; A Triple Bottom Line Failure?
Moving Mountains; Communities Confront Mining and Globalization

(
Evans, Goodman and Lansbury)
Transnational mining companies are key agents of corporate globalization. They are often larger than national economies, and dominate governments, local peoples and their environments. In response, affected communities and non-government organizations are creating new agendas for change and justice. In this text, contributors discuss strategies and key issues. Indigenous people affected by mining describe their first-hand experiences of the predatory nature of transnational mining corporations. Campaigners discuss ways of regulating mining and using financial power to ensure environmental and social protection. Other topics include corporate public relations and "green wash", and how campaigns from labour, national liberation, indigenous, human rights and environmental organizations, can force corporate accountability.
Print  copies available from MPI