Why Bougainville landowners oppose Rio Tinto's return
Posted On August 12, 2014
Dr Kristian Lasslett | International State Crime Initiative (statecrime.org)
Once more Rio Tinto subsidiary Bougainville Copper Limited (BCL) is in the headlines, after the Autonomous Bougainville Government (ABG) passed transitional mining legislation that seemingly continues the momentum towards the re-opening of the Panguna mine.
The legislation has provoked strong condemnation from the landowning communities that will be directly impacted by the mine's prospective reopening. They fear BCL's return is now unstoppable.
Their opposition has been given powerful form in the Parakake Resolution, and in the poignant commentaries written by the Nasioi people's own organic intellectuals, such as Chris Baria.
Bougainville's President John Momis has dismissed this opposition on Radio Australia; he claims it is being stirred up by certain backdoor mining interests.
While it is hard to know whether a particular individual has or has not signed a MOU, as Momis claims, the vast majority of people in the mine affected areas have no interest whatsoever in these backdoor players. Their opposition is principled and rooted in a history that is yet to receive the public attention it thoroughly deserves, and which if recognised would provide essential context, missing from current debates.
At the bare minimum this history extends back to BCL's so called 'alleged' involvement in PNGDF military operations that were conducted during 1989-90, after the mine was closed by landowning communities through a campaign of industrial sabotage (although this essential history goes further back still, to the mine's construction and operation, including its seismic impact on land, environment and culture).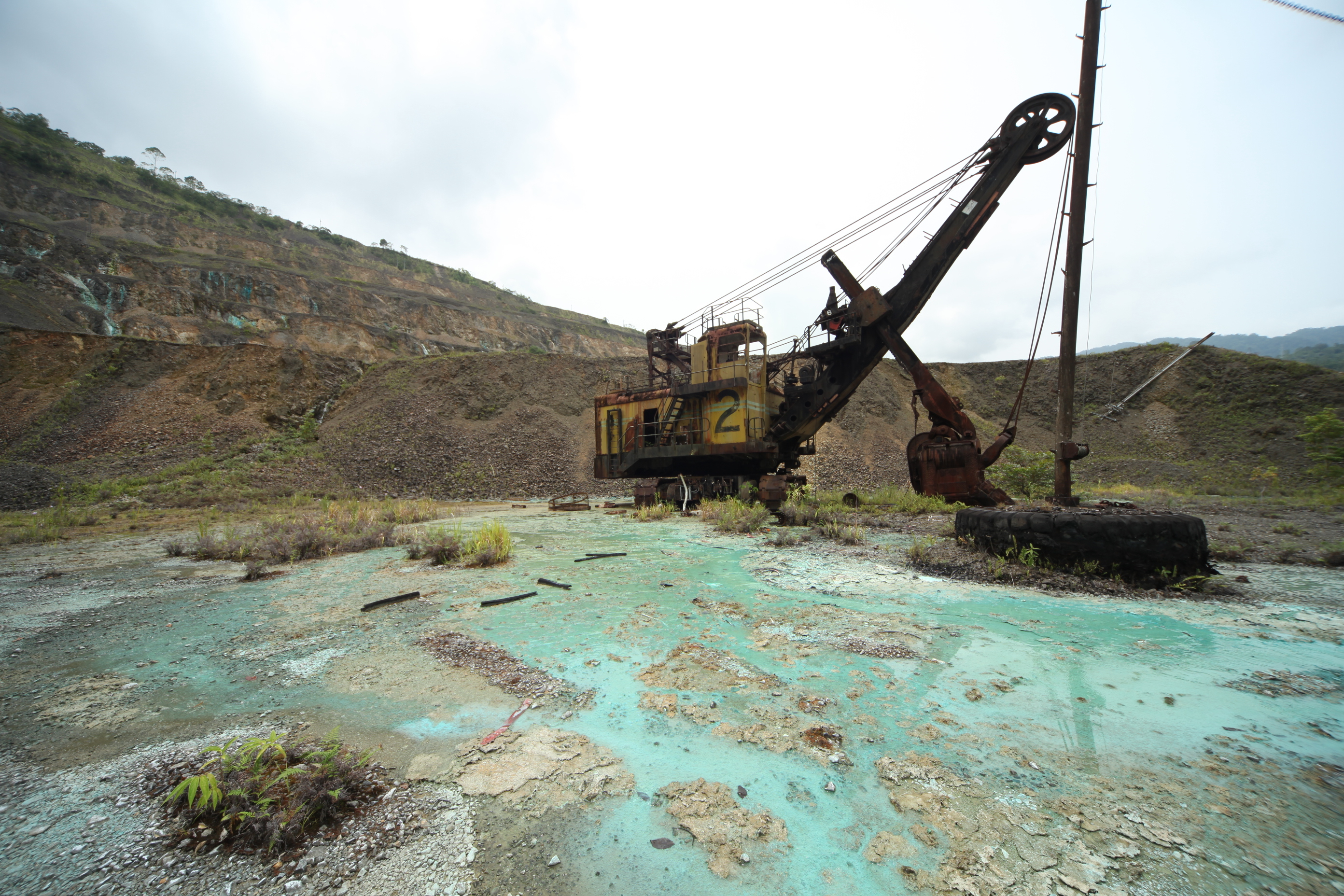 This remains an extremely emotive issue on the ground in the mine area, because these military operations were replete with some of the most atrocious war crimes imaginable. Indeed, they were so graphic, and so horrible, it would be insensitive to describe them here – as I have learnt the trauma survivors endure is foreboding and ever-present.
Nevertheless, respected regional commentators have cast doubt over these allegations levelled against BCL. For example the celebrated ANU scholar, Anthony Regan – who was contracted to draft the controversial mining law passed through Bougainville's parliament last week – noted in 2003, 'despite some claims to the contrary, there is as yet no credible evidence that BCL took any direct part in the [military] operations against the BRA [Bougainville Revolutionary Army]'. Regan maintains this position today, stating 'credible evidence is yet to emerge. Perhaps such evidence will emerge one day, but I'm yet to see it'.
Regan is a lucid and perceptive commentator with a strong devotion to the region, so it is difficult to understand how he, and other regional experts, can maintain this position, when so much compelling evidence is now publicly available, and presented in a range of scholarly publications.
Nevertheless, given the serious doubt regional experts have cast over these allegations, it is perhaps understandable that the media has failed to give them much credence.
In that light it is worthwhile bearing witness, once more, to the robust empirical evidence charting BCL's past conduct, hyperlinked where possible to the primary sources (it should be emphasised here, because there appears to be confusion, this evidence has primarily emerged from independent fieldwork, and is not in any way reliant on affidavits produced for a US class action against Rio Tinto).
On 26 November 1988, the day after landowner leaders initiated a campaign of industrial sabotage, BCL petitioned the government to deploy Mobile Squad units, to deal with these 'acts of terrorism' (BCL's meeting minutes are available here). This was a high-risk move given the Mobile Squads' human rights records. According to one BCL General Manager interviewed in 2006, they were aware of the risks: 'We knew the riot squads were heavy handed, that was well known in PNG. That's how they worked. If you threw a rock at them you would get ten rocks thrown back. They were very heavy handed in the way they handled disputes in the Highlands … We knew that the heavy handed thing wouldn't work if they were there [on Bougainville] long term. It was a case, somebody has to come. They were the only ones that could come, and put a lid on this thing before it got out of hand'.
When Prime Minister Namaliu informed BCL's Chairman, Don Carruthers, that his government wanted to send a peace delegation to Bougainville – as opposed to active deployment of the Mobile Squads – the Chairman threatened to withdraw Rio Tinto investment from PNG. In a memorandum to company directors dated 6 December 1988, the Chairman states: 'The PM's priority was to "appease" the landowners. I expressed the view that CRA [Conzinc Rio Tinto of Australia] would want to review its assessment of PNG as a place to invest. In all, it was an unsatisfactory meeting'. BCL's Chairman also complains to company directors that the PNG government appears 'unwilling or unable to assert its authority' on Bougainville. The memorandum is available here.
In June 1989, following a Cabinet reshuffle, the PNG government declared a state of emergency, which paved the way for a PNGDF offensive to reopen the mine, and rout the Bougainville Revolutionary Army. BCL was informed by PNG's Minister for State that the PNGDF was prepared to employ 'brutal firepower' (see BCL meeting minutes here). The first offensive, operation Nakmai Maimai, began on 3 July 1989. According to evidence provided by BCL's own executives team from this period, extensive logistic assistance was provided to the armed forces.

One General Manager from the 1989-90 period observed in an interview conducted during 2006: 'The reality was, "we [PNGDF/RPNGC] can't do our thing because we haven't got vehicles". So we'd give them vehicles. "Ah we haven't got radios so we can't communicate". So we'd give them two way radios. "Ah we can't support our men over here, we haven't got enough provisions". So we'd put them in the mess, we'd feed them in the mess, we'd provide them with accommodation. We did everything they asked of us to make their life more comfortable, and better able to manage through, with transport, communications, provisions, whatever, fuel. You know we gave them everything, because as a far as we saw it we were hoping that they were going to solve the situation, so we could start operating again. So we supported them every way we could'.
This testimony is corroborated by a senior official from PNG's Prime Minister's Department also interviewed in 2006: 'We relied heavily on some of the civilian facilities provided by the company. They did everything, I mean we spent lots and lots of money, to provide backup support services for the operation, but the defence force was not properly equipped at all'. A senior PNGDF officer involved in the operation confirms, 'the support of the mine was so significant, it augmented where the national government was lacking'.
Over the course of 1989-90, BCL regularly met with PNGDF commanders and PNG government officials to discuss the counterinsurgency operations. During one meeting which took place on 13 July 1989, BCL's Managing Director told PNG's Prime Minister, 'offensive activities OK and should continue'. He also identified targets to be 'apprehended', including the prominent Chief, Damien Dameng who BCL's Managing Director describes as 'the charismatic cult leader' (see meeting minutes here). An example of the strategic discussions frequently held with the PNGDF command can be viewed here.
When BCL's Chairman, Don Carruthers, was informed a military blockade was to be placed around Bougainville, cutting off all goods and services (this included medical aid), he is alleged by Sir Michael Somare to have said '[let's] starve the bastards out' (see here) (current Bougainville President John Momis has also made a similar allegation, see here). A senior BCL manager interviewed in 2006 outlines two central concerns underpinning this alleged support for the blockade, 'there were two things we were worried about. One was the ability of the militants to get more weapons to increase the level of their militancy. And the second was that there was always these threats that they were going to sell off the mine equipment'.
It is incredible to think in light of this powerful oral testimony and documentary evidence from a range of highly credible sources (i.e. senior BCL managers, PNG government officials, PNGDF officers, BCL internal records), which are detailed in full here, that these accounts have failed to be included in the most recent public debate (although it is very much part of discussions at the village level). Indeed, certain journalists have implied the allegations against BCL are so tenuous, they have reached a point where they can 'be put to rest'.
Of course at Panguna people need no reminding of BCL's role, they still remember the hum of BCL trucks laden with PNGDF troops, coming down the road to torch their villages.
Yet in a curious twist Bougainville's President has often said it is the communities in the mine-affected region who have specifically petitioned his office to have BCL returned as the mine's preferred operator. The phrase 'better the devil you know' has been put on high rotation; sadly those who should know better often quote this phrase as if it is axiomatic at the village level.
It is not. In fact I have never come across a villager in the mine-affected region who uses this phrase in support of BCL's return, indeed so raw are the scars that even the notional prospect of BCL's return tends to elicit panic and near universal condemnation. Whoever presented this view to the President (we are yet to find out), was not accurately relaying the beliefs widely held within the mine affected communities.
Compounding the confusion, journalists rarely travel to these villages, relying instead on media releases and political statements. When they do, as the intrepid Antony Loewenstein discovered, a very different narrative emerges, one seared by a great yearning for cultural sovereignty and self-determination, underpinned by a painful history of dispossession and marginalisation.
Indeed, these are not a people who suffer from a 'lack of understanding', as certain leaders have claimed (coupled to this, it has also been implied rural communities lack the 'expertise' to determine what is in their own best interests). Villagers in the mine-affected area have a breathtakingly nuanced understanding of their past, and they fully recognise the complexity of the conjuncture they are currently faced with. It must also be said, these people are not dupes being manipulated by foreign activists (which is another condescending allegation circulating in the media); they have witnessed first-hand the destructive consequences of believing grandiose promises delivered by outsiders with ulterior motives, and as a result have an unwavering belief in the strength and vitality of their own wisdom (and quite rightly, too).
So it is time to pause for a moment, and truly listen to the voices of Panguna. It is time to bear witness to their suffering, and to hear their cries for justice. It is time to move beyond the sleek sound-bites supplied by governments and miners, and actually study the primary evidence and actually visit the communities, to allow them to speak for themselves. It is time for BCL and its parent company, Rio Tinto, to acknowledge the past and to atone without strings.
It is time for truth, it is time for justice, and it is time to respect the dignity of the land's custodians; a dignity which so many, have sacrificed so much for.
Dr Lasslett's book State Crime on the Margin's of Empire: Rio Tinto, the War on Bougainville and Resistance to Mining is available via Pluto Press.
*A special thanks goes to Bougainvillean filmmaker Clive Porabou for the image used in this piece. Clive has tirelessly shared the voice of his people with audiences around the world through the medium of film.